What's up Armada fans!
I am glad you have tuned into what is bound to be the highlight of your day…or maybe not, but it's worth a shot!
Over the course of the season I will try my best to bring you an up close and personal look at what goes on with the team. No! I won't be giving you the cookie cutter boring stuff! Our team is much cooler than that! If you ever want to join in and want inside info on a certain someone or something just tweet me at @calebpatterson and I will make it happen.
We had a few days off in the break between the Spring and Fall seasons to rest the bodies before getting back into training. A lot of the lads went home to see families. I took mine and we headed south with the Blakes for a few days. Jacky boy decided he would stay off in another hotel only to phone raging that he couldn't sleep at night due to the noise. The bloke is getting old!
Got the jet skis out down there and took them for a ride with my granny, I mean Jack. Miss Daisy on water, the way he drives! In all honesty it was a load of fun and great views. It is always good to chill out for a few days with good company and that's exactly what we did.
On a private note, my grandmother went to be with my grandfather recently. She played a big part in my childhood and she will be greatly missed! She would have hated that I mentioned her, so this is for you nana!
We also had a major announcement in the break. The team finally has an owner it deserves! Credit must go to the whole organization for getting this team where it is during the transitional period. This is a very exciting time for the Armada organization and to see first-hand the enthusiasm and ambition from Mr. Palmer was awesome! I know the guys are buzzing to be apart of this.
As you are aware, the new season is upon us and we are working hard to pick up as many points as possible. We started with a point at home against San Fran and we were unlucky not to get 3 points on the road in Puerto Rico! If we got a point for every time we hit the post, we would have left there with 3 points!
After the first home game of this Fall Season it was cool to see all the feedback from the fans about the game atmosphere! How cool is it to have the Jumbotron at the games now? Now you can see all the replays!
We also had a huge turnout from the fans tuning in for the game on TV! As players, we love having all of the awesome support from our fans. We hope to see it continue, so we can make Hodges Stadium a fortress for us as we see out this second half of the season.
Three new players have joined the team recently (Tony Taylor, Brian Shriver, Ciaran Kilduff). Two of them I have played with before at previous teams in Tony and Shriver. It is a good thing they add quality on the field, as they certainly don't help us in having the best looking team in the league!
I played with Tony in Portugal when we played over there. He was my official translator during my first year in Portugal as I could only do sign language and that didn't seem to work so well. I played with big Shrives down in Miami when we were younger. That brings me to my next point! Big Shrives is now old! He just turned 30 on Saturday and will now join us older boys at the senior citizens table!
As for Ciaran, I am starting to get a little concerned for the lad. Not sure if he is coming over via plane or boat at this stage.. I am thinking the latter! All jokes aside we are looking forward to getting him over and helping us out in the coming weeks. No doubt he will rate my banter!
As you know, soccer players enjoy a good haircut! One of best haircuts I've seen in a while is being used by the fashion king himself, Charlie Eloundou. The ol' African pineapple haircut truly is a thing of beauty. I've left you all with a quick photo of the hairstyle in action.
Lastly, I have a photo that I would like you all to caption for me. It is a photo of The Fresh Prince of Bel-Air himself Mechack Jerome! Caption it and tag myself @calebpatterson and @jaxarmadafc on Twitter!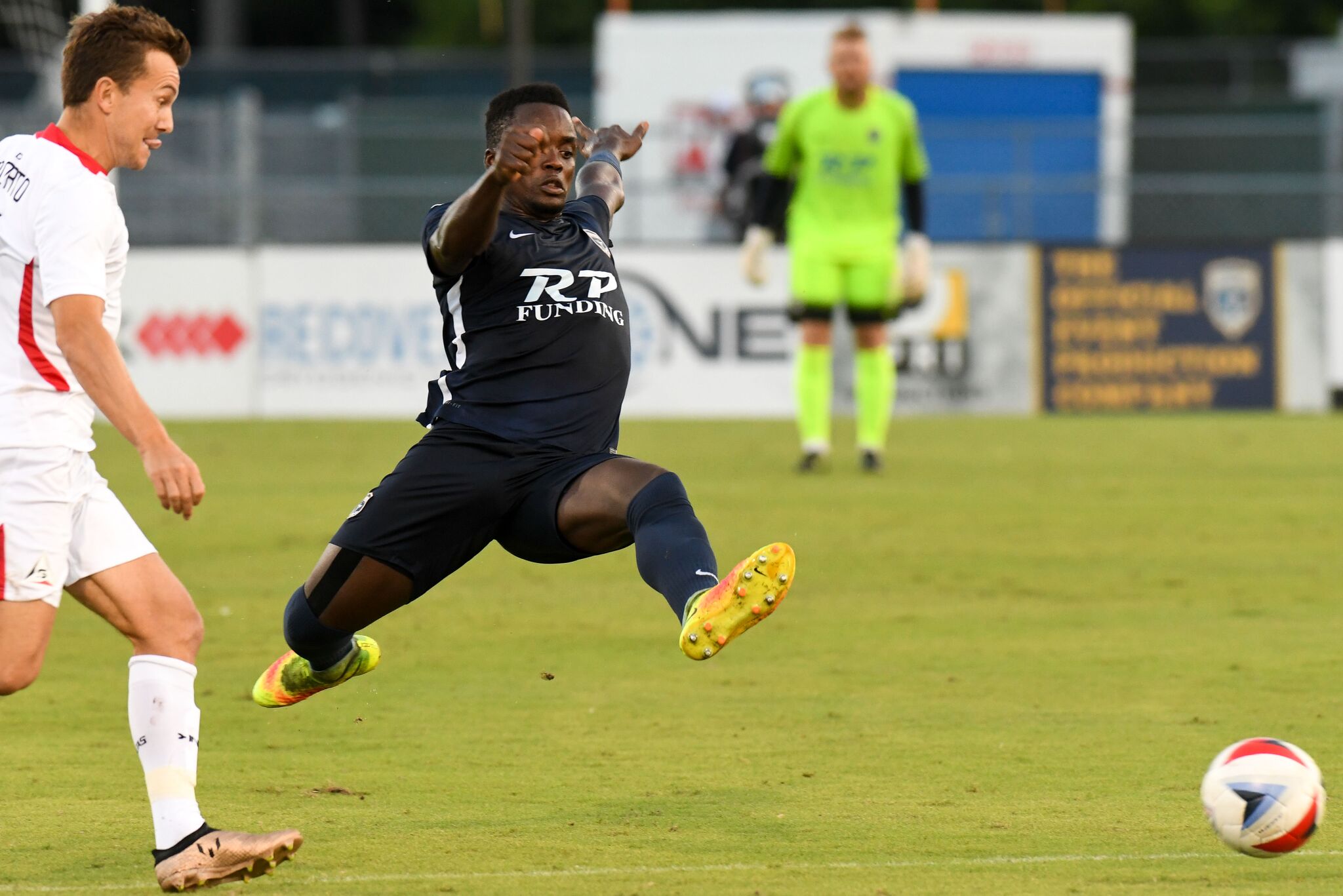 I will leave you all with a quick video from the last few trips. Hopefully you enjoy and obviously there will be more as we get further into the season. Until then, thanks for your support and we look forward to bringing back 3 points this weekend!
Cheers,
CPS