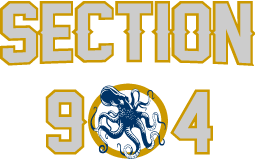 As the most passionate supporters group in Northeast Florida, Section 904 vow our undying support to the Armada FC, the fans, the city of Jacksonville and it's surrounding areas. We will demonstrate this by building a dynamic, impassioned environment around Jacksonville Armada FC and creating an intimidating atmosphere at home, showing our support on the road, and pushing Armada FC to be the best club in North America.
Who We Are
We are the loudest and proudest supporters group of the Jacksonville Armada FC! We consist of a large group of people with different backgrounds and convictions, yet we all possess a common interest in supporting our team and our city. Everyone is welcome! Come stand and sing with us in our designated section. Our memberships have many privileges and helps us finance our operations. We are creating a very unique culture in Jacksonville, a soccer culture that makes for a fun and exciting atmosphere that supports this great city and our local team!
Gameday
• Our tailgating spot is in the grass area by the south-east corner of lot 18.
• We set up the tailgate 3-4 hours before the game. Beer will be provided (21+), as well as food on special occasions.
• Our "March to the Match" will start 30 minutes before kick-off from our tailgate.
• We stand in section 102, which is on the south end of the stadium.
• Be prepared for loud, organized chants, waving flags, beating drums and large TIFO banners. This is what it means to be a part of Section 904!
Chant Along With Us
Learn all the chants by clicking here
Join Section 904
Members of Section 904 receive exclusive benefits for the season including: access to preseason and regular season member events, access to exclusive Armada FC Supporters events, discounted Armada FC Season Ticket pricing, Section 904 member's memorabilia, access to beer (21+) and food and tailgates, and discounts at Section 904 partner establishments*
*Membership card must be present for any discounted item or service.