Squid Vicious, The Kraken
Release The Kraken
The rare sighting of the terrifying octupus-like creature made famous by Jules Verne in his classic novel, 20,000 Leagues Under the Sea, surfaced in front of a large crowd of soccer fans during the second half Jacksonville Armada FC's first preseason home soccer match in 2015 at Community First Park at the Baseball Grounds of Jacksonville against Fort Lauderdale Strikers.
The Kraken surfaced in the northeast corner of the stadium next to the boisterous Section 904 supporters group. It is the first sighting of the monster since 2012, when the giant squid was captured on film by researcher Edie Widder for the Discovery Channel 2,000 feet below the surface of the Pacific Ocean. It appears that the Kraken may have found its way into Community First Park after entering the St. Johns River from the Atlantic Ocean off the First Coast sometime on Friday, Feb. 27.
The U.S. Coast Guard reported a large sonar presence close to U.S. Naval Base Mayport on Feb. 27 and U.S. Coast Guard helicopters were seen in the vicinity of Community First Park just before the Armada FC match.
"The Coast Guard has been monitoring a significant disturbance on the St. Johns River that answers the considerable size and speed of a Kraken," said Petty Officer 1st Class Stephen Lehmann, Top Flight Public Affairs Specialist for Coast Guard Sector Jacksonville. "We urge all mariners and recreational boaters to wear life jackets, carry signaling devices and to refrain from agitating the beast. It seems particularly enraged by the chants of from fans of visiting soccer teams."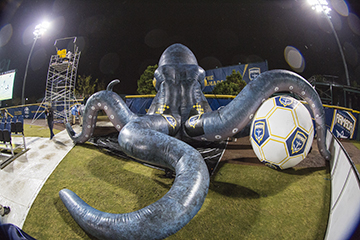 Section 904 supporter Sebastian Córdona, who witnessed the fearsome sight, said: "It was just incredible. I have never seen anything like it. It was a huge blue octopus around 30-40 foot in height which appeared at the corner flag just before the start of the second half.
"We were terrified at first, but it seemed to be waving at us, and then we noticed it was wearing a huge Armada FC scarf and had a soccer ball under its tentacles. It looked like it was supporting our team, balling it's feelers like fists and waving them menacingly at the Fort Lauderdale Strikers ... which was just fine by us!"
The Armada FC would like to thank all at U.S. Coast Guard for providing their great support and protection.